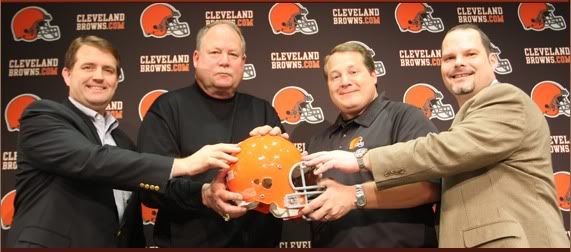 Seated at the podium inside the Dino Lucarelli Media Center Tuesday afternoon were Browns president Mike Holmgren, head coach Eric Mangini and the team's two newest hires, general manager Tom Heckert, Jr. and vice president, business administration Bryan Wiedmeier. CLICK HERE TO WATCH THE PRESS CONFERENCE

Below, new GM Tom Heckert recently snatched from the Eagles




Four men with eleven picks in this year's draft. If this doesn't stop the bleeding I'm not sure what will. Quality football guys are now in charge of the organization. What an exciting time for the city of Cleveland. Now, let's find a quarterback... is he in the building or on the draft board?