It's an awesome thing to live just a couple of blocks from Johnny Brenda's. Got to see a kick ass show last night with Darwin Dees, Throw me the Statue and BISHOP ALLEN! Then I stumbled home and was in bed by 12:30am. Here's some pics!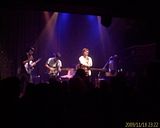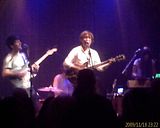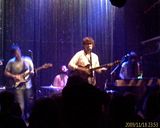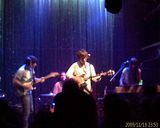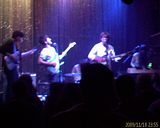 My phone takes okay pics... Busy week! I had The Blockley Tuesday, Johnny Brenda's Wednesday, and I still have The Spot with
Revolution, I Love You
this Saturday! FANTASTIC
Anyways, wanted to thank Matt Seeker for the headz up on the show. For those that don't know Mr. Seeker, he writes an awesome blog entitled Phillyosophy
(www.phillyosophy.net)
. Make sure you stop by and check it out! Matt also told me an interesting story last night, which now that I'm sober and it's still funny I feel it necessary to share. Matt lived on top of a video rental store. The one video game (I believe he said PS2) that he rented... upon its return to the store had to be sled under the door because it was ALMOST A YEAR LATE! How effing funny is that? Dude lived on top of the store and still couldn't return it on time. HA
OK, that is it for my story telling, but I did want to mention one more thing!
12-12-2009 TQS Debut LP
I-M