I hate you Big Ben!
Ahh, but he's so good right?! Where can we get us one of him?
This isn't Monday morning quarterback... this is May morning quarterback. Who's it gonna be? Cause dammit it has to be somebody!!!
Steelers 27 Browns 14
I'm actually going to say not bad Browns. We scored! And, against a Pittsburgh Steelers defense. I thought that the score would be worse. I knew Big Ben would have his way with our defense simply because we have a hard time sacking Ben. Our defense is predicated on getting to the quarterback. When we don't do that we don't win. Now, if only we could score (more than one touchdown)... Yes, hold off the parade. I know it's amazing that we scored a touchdown but we are going to need more than one a game to turn this thing around. Which brings me to the title of this post. Who's it gonna be???
WE HAVE 11 PICKS! LET'S USE THEM WISELY!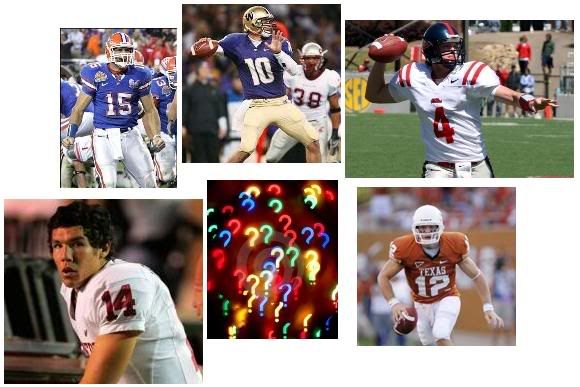 DRAFT DAY CAN'T GET HERE SOON ENOUGH!
http://cfn.scout.com/2/855299.html
The Quarterbacks
Rankings of the 2010 Top Prospects
FRANCHISE STARS
1. Sam Bradford, Oklahoma (Jr.)
2. Jevan Snead, Ole Miss (Jr.)
3. Tim Tebow, Florida
4. Colt McCoy, Texas
LIKELY STARTERS
5. Jimmy Clausen, Notre Dame (Jr.)
6. Dan LeFevour, Central Michigan
7. Zac Robinson, Oklahoma State
8. Tim Hiller, Western Michigan
BEST OF THE REST
9. Colin Kaepernick, Nevada (Jr.)
10. Case Keenum, Houston (Jr.)
11. Jarrett Brown, West Virginia
12. Rusty Smith, Florida Atlantic
13. Juice Williams, Illinois
14. Max Hall, BYU
15. Tony Pike, Cincinnati
16. Joe Webb, UAB
17. Adam Weber, Minnesota (Jr.)
18. Todd Reesing, Kansas
19. Tyler Sheehan, Bowling Green
20. Jake Locker, Washington (Jr.)
21. Daryll Clark, Penn State
22. Andy Schmitt, Eastern Michigan
23. Greg Alexander, Hawaii
24. Ricky Stanzi, Iowa (Jr.)
25. Chris Turner, Maryland