Ice Cube received the "I Am Hip-Hop" icon award at this year's BET awards scheduled to air October 27th. Congrats! You deserve it!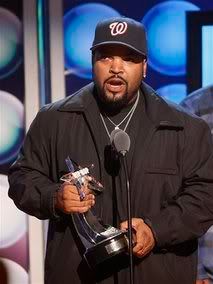 Kanye West, meanwhile, couldn't hijack the stage, because the rapper was a no-show. Wonder where he was?
T.I. won while in prison. The rapper, who is locked up in an Arkansas penitentiary on a federal weapons conviction, won the best collaboration award with Rhianna for the song "Live Your Life" and the album of the year award for "Paper Trail." His fiancee Tameka "Tiny" Cottle accepted his awards at the ceremony in Atlanta and read a letter by the rapper, who began serving a yearlong sentence in late May.
The Letter
"Although I'm not there with you all, I'm there in spirit," Cottle quoted the rapper as writing. "My road to redemption is almost over. ... Thanks for the support."
Remember the show has been recorded and it will air 10/27/2009. Tune in cause rap group Goodie Mob performs "Cell Therapy." Ahh man... I miss those days!
http://news.yahoo.com/s/ap/20091011/ap_en_mu/us_bet_hip_hop_awards