It was a beautiful fall afternoon in northeast Ohio. There was no snow on the ground as expected, and it was about 40 degrees, as Cleveland Browns fans looked upon what is certain to be a bright future for a franchise that has struggled since the late 80s. What a great way to bring in the Holiday Season. Browns nation was definitely dealt a couple of early gifts this year. The gifts; Colt McCoy, Peyton Hillis, Defense. Oh, and Lebron who?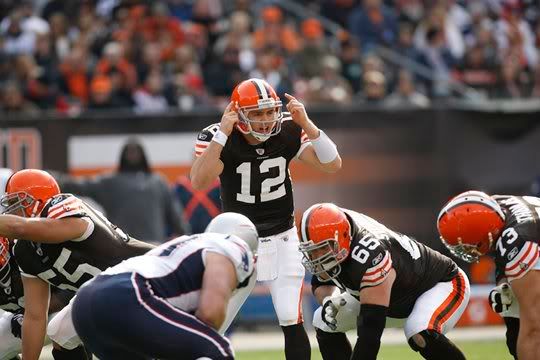 After nearly 20 years I'm starting to believe that the search is finally over. I think we've found him, our quarterback, our leader, our future. "Colt McCoy" He shows poise, maturity and heart. He is cool, calm and in control. He is a winner.
I-M
CLEVELAND- Rookie quarterback Colt McCoy scrambled for a touchdown, and running back Peyton Hillis hammered for a career-high 184 yards and two scores as the Cleveland Browns pounded the New England Patriots 34-14 on Sunday. Two weeks after stunning the defending Super Bowl champion New Orleans Saints, the Browns (3-5) pulled off another shocker. Well rested after their bye week, they ended New England's five-game winning streak and did it decisively, outplaying one of the NFL's top teams for all 60 minutes.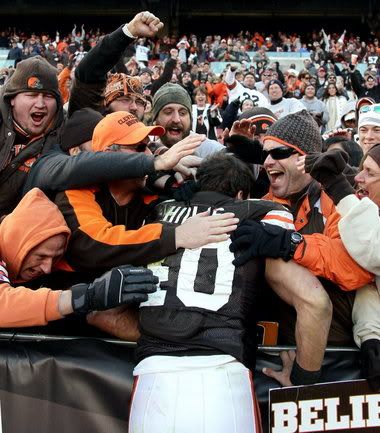 This wasn't a fluke. The Patriots (6-2) were battered, baffled and beaten badly. It had to be particularly satisfying for Browns coach Eric Mangini, who defeated Bill Belichick, his former friend and mentor. The pair's relationship was damaged years ago, and they ignored each other during pregame warmups. After the game, Mangini shared a brief handshake with Belichick. (NFL.com)