Dear Football Gods,
It has been 30 years now and I'm still waiting for you to bestow your blessings upon my beloved Cleveland Browns. I've prayed and prayed night and day for your glory to shine down. So far, I've only been answered by bad draft picks, quarterback controversy, horrible hires and insufferable loosing streaks. I am now on my knees begging you to please have mercy upon my football soul! Why hast thou forsaken me?! Has it been me?! Was it something that I've done in the past?! That pack of twizzlers was an accident I swear! I had no idea they were in my pocket until I was in the car! Why don't you believe me!? Should a donation be made to football heaven?
Better yet... I have an idea.
I am going to sacrifice this goat in your honor...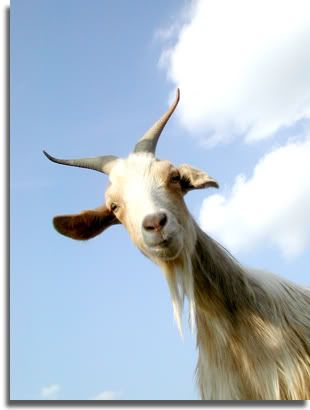 All I ask for in return is that you bless us with one winning season... maybe a playoff push? Please!? Please Football Gods.... PLEASE!!
(For information regarding the goat sacrifice please leave a comment with your email address so that I can laugh. If you would like to attend the sacrifice or the dinner afterwards please RSVP to
imtotallykiddingpeta@yahoo.com
)