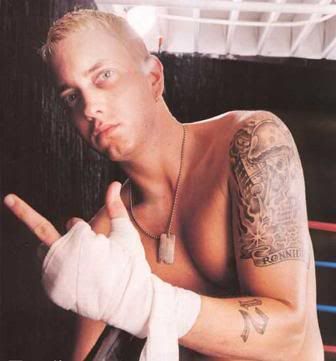 WHY the F would you ask Marshall for his autograph while he is pissing? I mean there is a time and a place for everything. It's one thing that the man is probably sick of being mobbed by people wanting something ... "Kyle Pratt" but to bother a man during personal time as private as using the bathroom? OH, and then have the nerve to turn around and sue, because Marshall did what 90% of people in America would have probably done in the same situation, is effing ridiculous. I would have peed on him. I mean who was this guy? Stan?
So the story goes...

Two years ago Eminem beat up a guy in a strip club. No big surprise, right? Right. We haven't heard a lot from Eminem in a while, but it makes sense that when we would, it'd be for some kind of fight. Well even though the guy laid low for a couple years, he's decided that NOW is the time to sue the rapper – for the gigantic sum of $25,000.

A man has sued Eminem, claiming the rapper punched him two years ago while they were in the bathroom of a Detroit strip club.

The Detroit News reports Miad Jarbou of Royal Oak filed the lawsuit Thursday in Oakland County Circuit Court seeking more than $25,000 in damages. The suit claims Eminem punched him July 13, 2006, at Cheetah's On the Strip Gentlemen's Club.

Eminem spokesman Dennis Dennehy declined to comment Friday on the lawsuit.

Eminem, whose real name is Marshall Bruce Mathers III, wasn't charged following reports of an incident at the club in 2006.

The strip club is located on Eight Mile Road, the border between Detroit and the northern suburbs made famous by Eminem's hit 2002 film "8 Mile."

[From the Huffington Post]

The incident happened after Jarbou and a friend approached Eminem for an autograph in the club's bathroom. The rapper was at the urinal, and his bodyguard turned Jarbou away. According to his account, he was trying to explain to the bodyguard that he wanted to meet Eminem when the rapper turned around and punched him.
Bravo. Like I said before, "peed on em."
I-M