The weekend is almost here and it's getting closer and closer to that Browns, Steelers game. Can't Wait! Well, maybe I can. I am a little nervous. Odds are against us, and well … you know what? I'm just going to leave it as that. I don't want to turn this into a Steelers bashing.
Okay, so I was incredibly bored today and surfing the web. I was clicking on stuff and running around MySpace checking things out, posting bulletins, and I ran into the most amazing band. These guys are the real deal and I BET that we are going to be seeing them all over the universe very soon. The name of this incredible band is "Last Year Portrait." I was floored that these guys weren't signed. Then, I looked deeper into their page only to find out that these guys were the band that won that American Idol Underground Contest. I can see why! For the prize they were brought out to LA to perform and to meet the suits. I'm imagining it's only a matter of time before these guys get picked up. When you get time check em out! LYP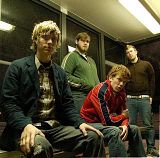 They have a pretty cool MySpace page with some videos. One video being of their trip to LA, one video of them in the studio and another of them performing on Good Day ATL Fox. Good stuff. I'm impressed.
Latah,
I-M