So, yeah... there was a Steelers love fest on TV Sunday night, I'm not sure if anyone caught it, I did. I have been holding back on writing about it cause I wanted to be a good sport. Yeah I did! "I" wanted to be fair, and I knew that if I had of attempted to write something on Monday or Tuesday it would have been filled with hate and discourse and maybe a little bit of self pity.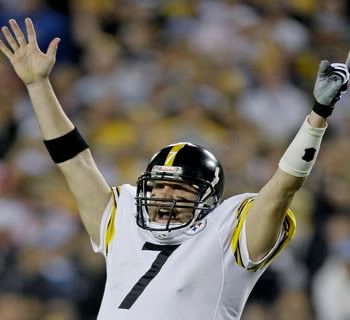 I didn't want to do that. Hence why this is a late post. Look, I love football. Football completes me. With that being said, I have got to give it up for the Steelers. They play the game the way it is supposed to be played. Hard nosed, tough, strong, great defense, ambition, desire... all the things that ANYONE would want in a team. Big Ben is an amazing quarterback. What else can you ask for out of a guy who can lead his team down the field when it's needed the most. He did it! Big B did it. He did it with a perfect throw to top off a perfect Superbowl drive.


Where the hell is my perfect drive! Eh, who am I kidding... I can't do it! I hate them! My hate for the Steelers runs as deep as an oceanic crack in the earth's crust exposing the mantle. It's just not right! Six! Do you know how cool that would be to run around talking crap about how my team has won not one, not four, but six freakin NFL Superbowl Freakin Superbowl Championships? I could say cool things like, "Oh, we are about to open up a six pack of whoop ass on that ass!," or "Somebody slap Frodo cause we are the real Lord of The Rings out this beotch!" I would be cool saying those things. Really, REALLY cool! I would feel like a new millennium football pimp ready to take on the World! No, not me though. My loyalty for my team has been rewarded with yet another regime taking over. My celebrations have been halted even in my move to the wonderful place where I live now, PHILLY. I went from watching John Elway lead the Broncos down the field for the go ahead Superbowl touchdown to watching Kurt Warner do the exact freakin same thing this year in AZ plus 2!

UNFAIR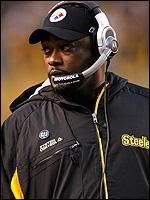 How can you hate a coach who coaches this hard? What more could you ask for if you had Mike Tomlin as your head coach? Why is our luck so bad as Browns fans? What the hell did we do to deserve this?!


Wow this turned out exactly the way I thought it would. Time did nothing.